CLF's New TV Ad "Finances" Against Rob Quist in MT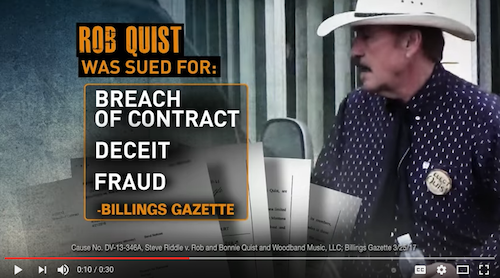 Ad features Montanans and their concerns with Quist's reckless financial past
 WASHINGTON – The Congressional Leadership Fund (@CLFSuperPAC), the super PAC endorsed by House Republican leadership, today released its latest ad "Finances," against Democratic candidate Rob Quist in Montana's special election race. The spot features Montanans expressing distrust and deep concern over Quist's reckless financial past.
"Rob Quist thinks he can mislead voters on his reckless financial past, but Montanans won't be fooled,"said Corry Bliss, CLF Executive Director. "Whether it's failing to pay taxes, getting sued for fraud and deceit, or stiffing fellow Montanans, Quist is shady and there's no denying it. Montanans can't afford to trust Rob Quist with their hard-earned tax dollars."
The ad is part of CLF's previously announced $2 million independent expenditure campaign, and will begin airing in the Billings, Bozeman, Great Falls, and Missoula media markets beginning Thursday, May 11. In addition to TV and digital advertising, CLF's commitment in the race includes a mail and field program of 50 door knockers targeting 75,000 households by Election Day, May 25.
SCRIPT
CHARLIE: The more I read about Rob Quist's history of bad debts and tax liens, the less I would ever trust him with my tax dollars.
JODEE: Newspapers say Quist has been sued for breach of contract, deceit and fraud.
TERRA: Quist faced multiple warrants for failing to pay his taxes. 
PHIL: He stiffed a contractor who did work at his home.
JODEE: How is that for Montana values?
TERRA: Rob Quist should learn to manage his own finances…
MIKE: … before asking to go to Congress and manage ours.
ANNCR: Congressional Leadership Fund is responsible for the content of this advertising.
###