CLF Launches Digital Ads Slamming All 29 Trump Seat Democrats Who Voted For Impeachment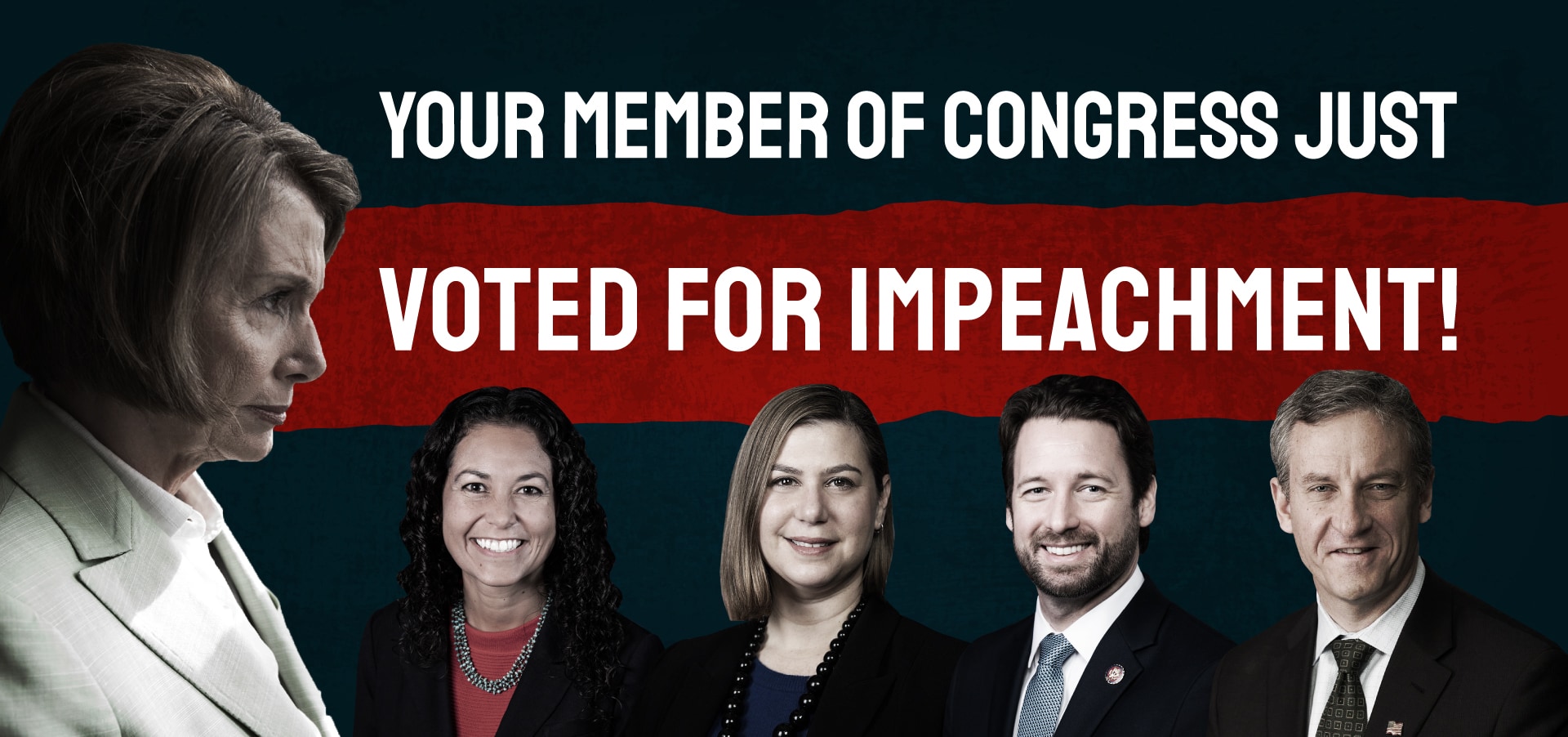 Moments after Democrats voted to advance their efforts to impeach President Trump, Congressional Leadership Fund launched new digital ads in the districts of all 29 vulnerable Democrats representing districts won by President Trump who voted to march forward with impeachment.
The ads will target key voters online as they search for terms like "impeach," "impeachment," "inquiry" or as they seek information about their Congressman or Congresswoman back home. The ads direct individuals to a new website ImpeachmentDemocrats.com where voters can sign a petition to demand Democrats drop their efforts to impeach President Trump.
"The Democrats are so blinded by their personal hatred of President Trump that they're willing to sacrifice all work on the issues voters care about, just to have one last shot at removing him from office to avenge their 2016 loss," said CLF President Dan Conston. "Now that they've cast their votes in favor of marching headfirst into impeachment, vulnerable Democrats have shown voters there is zero difference whatsoever between them and the radical leftists fighting tooth and nail to impeach this President. With the House Majority running through Trump Country, voting for impeachment ensures there will be nowhere to hide for Democrats to escape their constituents' wrath next November."
An example of what voters will see online is below, as well as a preview of the new site.
The campaign targets all 29 vulnerable Democrats who voted for impeachment including:
• Tom O'Halleran (AZ-01)
• Lucy McBath (GA-06)
• Abby Finkenauer (IA-01)
• Dave Loebsack (IA-02)
• Cindy Axne (IA-03)
• Lauren Underwood (IL-14)
• Cheri Bustos (IL-17)
• Jared Golden (ME-02)
• Elissa Slotkin (MI-08)
• Haley Stevens (MI-11)
• Angie Craig (MN-02)
• Chris Pappas (NH-01)
• Andy Kim (NJ-03)
• Josh Gottheimer (NJ-05)
• Mikie Sherrill (NJ-11)
• Xochitl Torres Small (NM-02)
• Susie Lee (NV-03)
• Max Rose (NY-11)
• Sean Patrick Maloney (NY-18)
• Antonio Delgado (NY-19)
• Anthony Brindisi (NY-22)
• Kendra Horn (OK-05)
• Matt Cartwright (PA-08)
• Conor Lamb (PA-17)
• Joe Cunningham (SC-01)
• Ben McAdams (UT-04)
• Elaine Luria (VA-02)
• Abigail Spanberger (VA-07)
• Ron Kind (WI-03)