Rouda stripped retirement from his employees, too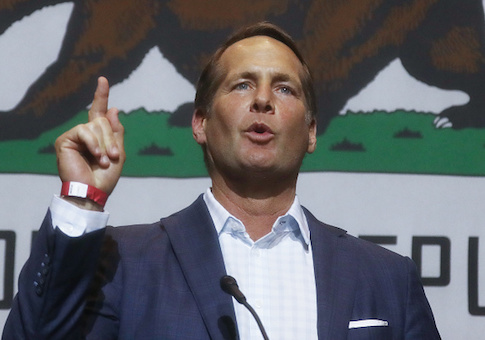 Not only did Harley Rouda terminate healthcare coverage for his employees, he also terminated their retirement plans too, eliminating the 401(k) plan that covered "'substantially all employees'" at his real estate firm according to a new report.
So much for workers deserving "the opportunity to retire in peace, NOT bankruptcy."
In case you missed it…
CA Dem Terminated Worker Retirement Plans As Real Estate Exec
Washington Free Beacon
Collin Anderson
10/9/20
https://freebeacon.com/2020-election/ca-dem-terminated-worker-retirement-plans-as-real-estate-exec/
Rep. Harley Rouda (D., Calif.), who has championed workplace retirement plans as "a crucial part of the American dream," terminated 401(k) benefits for employees of his investment company in 2015, documents obtained by the Washington Free Beacon show.
Rouda became CEO of real estate investment firm Trident Holdings in October 2012, according to the ColumbusDispatch. Roughly three years later, the Democrat terminated the company's 401(k) plan, which covered "substantially all employees," according to an internal document.
"On December 8, 2015, the Company approved the termination of the Plan effective November 30, 2015," the document says. "The Plan was a defined contribution plan covering substantially all employees of Trident Holdings, Inc. (the Company), formally Real Living, Inc., who had attained age 21 or older."
The decision is at odds with Rouda's rhetoric as a federal lawmaker. The Democrat said that those who have "worked hard [their] entire life … deserve the opportunity to retire in peace" through employer-provided plans in a May 2019 tweet, calling retirement "a crucial part of the American dream." One month later, Rouda said that a bill aimed at expanding workplace retirement savings would "empower" Americans by making "coping with family challenges just a little easier."
The move also came two years after Rouda cut health benefits for employees of HER Realtors, a real estate company owned by Trident Holdings. The Democrat has made health care a staple of his tight reelection bid against Republican Orange County supervisor Michelle Steel—his campaign site calls health care "a right for every American" and stresses the need to "improve and expand health care coverage—not dismantle it."
A former HER Realtors employee told the Free Beacon that Trident Holdings' decision to terminate its 401(k) plan also extended to HER Realtors staff.
"He does talk out both sides of his mouth, and I worked for him for years," the former employee said, adding that he left the company after the lack of benefits became "unmanageable."
"I needed to get back into more of a traditional organization that had better benefits, better retirement offerings."
Rouda did not respond to a request for comment.
While Rouda left the company in 2019, he continues to earn substantial "ownership profits" from Trident Holdings, raking in between $155,000 and $1.15 million last year, according to his most recent financial disclosure.
Rouda spent decades in the real estate industry, having served as president of HER Realtors as early as 1996, according to a now-deleted Bloomberg executive profile. He cofounded the real estate company Real Living Real Estate in 2002—the company was forced to pay $1.85 million six years later to a 57-year-old cancer patient who sued the company for wrongful termination.
Rouda defeated former longtime GOP congressman Dana Rohrabacher by 7 points in 2018, becoming the first Democrat to win California's 48th Congressional District since its creation in 1993. He is now considered one of the most vulnerable House Democrats in the state. His Republican opponent has outraised him as of late. Steel raised roughly $1.1 million between April and June, compared to Rouda's roughly $660,000. Steel also reported raising $1.8 million in the third quarter of 2020. Rouda has yet to release his third quarter fundraising numbers.