New CLF Video: What Causes Campaign Violence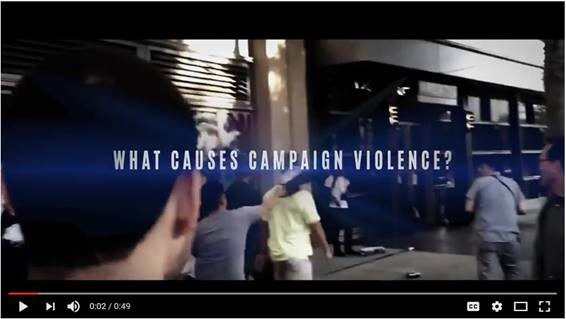 Calls on Congress to Investigate Campaign Violence and Jan Schakowsky
WASHINGTON – Congressional Leadership Fund (@CLFSuperPAC) today released a video profiling the underpinnings of manufactured violence at political rallies this year. This follows the explosive undercover video by Project Veritas that exposed veteran Democrat operative Robert Creamer and his associates organizing confrontations at Republican campaign events in order to manufacture conflict, false narratives and media coverage.
Now controversy swirls around two ringleaders for organized demonstrations: Robert Creamer and his wife, Congresswoman Jan Schakowsky.
"The incitement of violence at campaign rallies was an assault on individual Americans and on our democracy as a whole. Americans deserve answers," said Emily Davis, CLF communications director. "For far too long, Congresswoman Jan Schakowsky and her husband, convicted criminal Robert Creamer, have been unaccountable for their roles as instigators of liberal demonstrations. Congress should get to the bottom of this and demand answers on the organized attacks on democracy and what role Congresswoman Jan Schakowsky may have played."
The plans to propel violence and anarchy worked. Voters and law enforcement were harassed, assaulted and even injured. And it's no coincidence that the anarchy led to the cancellation of Donald Trump's presidential campaign rally in Chicago, the hometown of Robert Creamer and Jan Schakowsky. The lawlessness resulted in the headlines and silencing of democracy the organizers wanted, leading the protestors to celebrate with shouts of "We stopped Trump!"
Creamer has a long history of organizing illegal activities. In 2005, the longtime Democrat consultant pleaded guilty and was sentenced to jail on federal bank fraud and tax violation charges for spearheading a check-kiting scheme and failing to make income tax payments. Nevertheless, this election Creamer had been working with the Democratic National Committee and the Hillary Clinton campaign – roles he is allegedly "stepping back" from in the wake of the undercover video.
In addition to the appropriate legal authorities addressing any illegal activity related to campaign violence, Congress can take a role in investigating who knew what, when and where that resulted in an assault on voters and America's process of democracy.