New CLF Ad: Rick Nolan "Takes Care of Himself"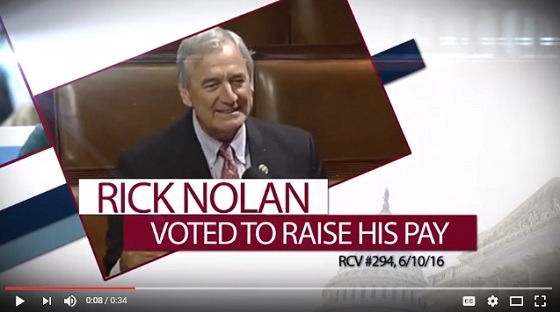 Ad Closes Out CLF + AAN's $4.8 Million Campaign in MN-08
WASHINGTON – The Congressional Leadership Fund (@CLFSuperPAC), the super PAC founded by former Senator Norm Coleman (R-MN) and endorsed by House Republican leadership, released its fourth and final ad, "Takes Care of Himself," against Congressman Rick Nolan (MN-08). The ad slams Nolan's record of voting to raise his own salary while sticking Minnesotans with disastrous Obamacare.
"Rick Nolan has a service goal in Congress: himself. While Minnesotans see their premiums skyrocket and health care slashed, Rick Nolan looks at his fat pension," said Ruth Guerra, CLF spokeswoman. "Rick Nolan is the epitome of an out-of-touch, Washington politician who has left middle-class families footing the bill time and again. It's time to retire Rick Nolan."
The ad will air broadcast and cable and online in the Minneapolis-St. Paul and Duluth media markets beginning Tuesday, November 1, as part of a $4.8 million independent expenditure campaign in MN-08 from CLF and its sister 501c4, American Action Network. CLF and AAN's total announced general election spending to date is over $45 million in 32 districts nationwide.
Script:
ANNCR: Politician Rick Nolan takes care of himself.
In Congress, he voted to raise his own pay.
He's got a fat pension, too.
But for us,
Rick Nolan helped create a healthcare crisis.
Minnesota health insurance premiums are skyrocketing.
Limited health care choices,
And Medicare for seniors has been slashed.
We're paying more and getting less.
Career politician Rick Nolan takes care of himself,
Not us.
Congressional Leadership Fund is responsible for the content of this advertising.