New CLF Ad Against "Pelosi's Rubber Stamp" Matt Heinz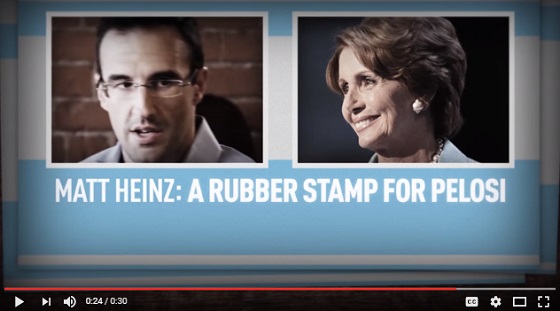 Ad Part of CLF's $700,000 Campaign
WASHINGTON – Today, the Congressional Leadership Fund (@CLFSuperPAC), the super PAC endorsed by House Republican leadership, released its second ad against Democrat Matt Heinz in Arizona's 2nd Congressional District race. The ad, called "Pelosi's Rubber Stamp," reveals Matt Heinz's blind support for Pelosi's failed liberal policies in the midst of skyrocketing premiums under Obamacare and the Iran nuclear deal giving billions of dollars to the world's largest state sponsor of terrorism.
"Obamacare is on the verge of collapse, yet Matt Heinz continues to defend a law that has left Arizonans with fewer options and skyrocketing rates. Whether it's because Nancy Pelosi supports Obamacare or because Heinz helped with its roll out, Heinz proves he is another rubber stamp for the status quo," said Ruth Guerra, spokeswoman for CLF. "Arizonans need an independent, results-oriented leader in Congress like Martha McSally who will fight for their health and safety."
The ad will air on Tucson cable, broadcast and online beginning Wednesday, October 26, as part of CLF's $700,000 independent expenditure campaign in AZ-02. CLF and its sister organization American Action Network's total announced general election spending to date is over $40 million in 32 districts nationwide.
Script:
ANNCR: Matt Heinz can't wait for January 3rd.
That's when he would become a rubber stamp for Nancy Pelosi and her agenda.
Like Obamacare.
With its 700 billion dollars in Medicare cuts.
Skyrocketing premiums. And cancelled plans.
Worse, Matt Heinz defends the Iran nuclear deal, which could put Iran on a path to
nuclear weapons.
Matt Heinz won't represent you in Congress. He'd be a rubber stamp for her.
Congressional Leadership Fund is responsible for the content of this advertising.