New CLF Ad: Michael Eggman a "Rubber Stamp" For Pelosi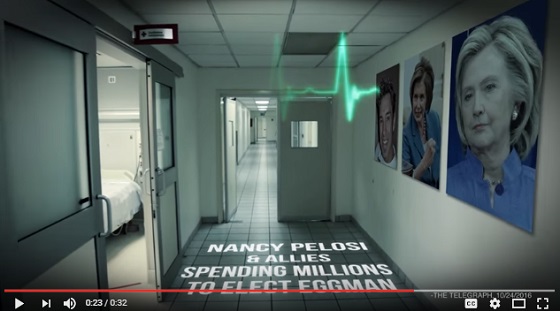 Ad Part of CLF's Now $3.5 Million Campaign
WASHINGTON – Today, the Congressional Leadership Fund (@CLFSuperPAC), the super PAC endorsed by House Republican leadership, announced an additional $1.5 million in spending and a new ad against Michael Eggman in California's 10th congressional district race. The ad "Rubber Stamp" exposes Eggman's loyalty to Nancy Pelosi as he continues to embrace Obamacare that slashed Medicare and sent premiums skyrocketing for Californians.
"Obamacare is on the verge of collapse, yet Michael Eggman continues to defend a law that has left Californians with fewer options and skyrocketing rates. Whether it's because Nancy Pelosi supports Obamacare or because Pelosi and her allies are spending millions to get him elected, Eggman proves he'll be another rubber stamp for an extreme liberal agenda," said Ruth Guerra, spokeswoman for CLF. "Californians need an independent, results-oriented leader in Congress like Jeff Denham who will fight for real and affordable health care solutions."
The ad will air on Sacramento cable and broadcast beginning Tuesday, November 1, through Election Day, as part of CLF's now $3.5 million independent expenditure campaign in CA-10. A 15-second version will run on digital platforms. CLF and its sister organization, American Action Network (501c4), have announced total general election spending to date of over $45 million in 32 districts nationwide.
Script:
ANNCR: Insurance premiums on Obamacare exchanges will rise twenty-five percent,
Facing new and costly regulations from Obamacare,
Dire consequences for seniors.
But extreme liberal Michael Eggman supports Obamacare,
It cuts seven hundred billion from Medicare,
Yet Michael Eggman backs his liberal bosses.
Nancy Pelosi and her allies are spending millions so Eggman can rubberstamp her liberal
agenda.
That's why we must stop Michael Eggman.
Congressional Leadership Fund is responsible for the content of this advertising.