New CLF Ad: Jim Mowrer's Ideas "Cost Us"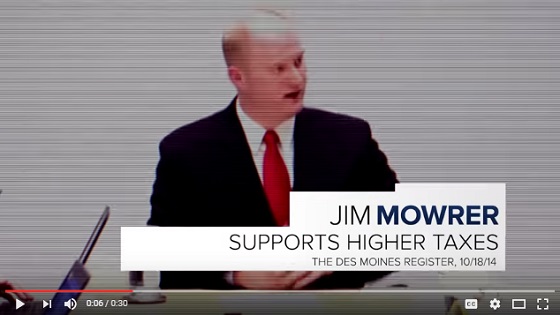 Ad Part of CLF's Now $1.8 Million Campaign
WASHINGTON – Today, the Congressional Leadership Fund (@CLFSuperPAC), the super PAC endorsed by House Republican leadership, released its third and final ad against Democrat Jim Mowrer in Iowa's 3rd congressional district race. The ad "Cost Us" slams Mowrer's support for EPA regulations and the Death Tax that hurt Iowa families and small businesses.
"It's hard enough to make ends meet, but if Jim Mowrer gets his way, he'll make things worse. Mowrer vows to double-down on higher taxes and onerous regulations that will further strain Iowa families," said Ruth Guerra, spokeswoman for CLF. "Iowans deserve a leader like Congressman David Young who will work across the aisle to get things done, not a partisan rubberstamp like Jim Mowrer."
The ad will air on Des Moines and Omaha cable and broadcast beginning Tuesday, November 1, through Election Day, as part of CLF's now $1.8 million independent expenditure campaign in IA-03. A 15-second version will run on digital platforms. CLF and its sister organization, American Action Network (501c4), have announced total general election spending to date of over $45 million in 32 districts nationwide.
Script:
MARTHA:  I work hard.
MCKENZIE: It's not easy making ends meet.
TREVER: When politicians like Jim Mowrer talk about higher taxes for others
RICK: It means we're all gonna pay more.
MARTHA: Mowrer supports regulations that'd cost my family and my business.
RON: Mowrer supports the Death Tax making it almost impossible to pass my farm along to my kids.
BARB: We can't afford Jim Mowrer
TREVER: Jim Mower's ideas…they're going to cost us.
ANNCR: Congressional Leadership Fund is responsible for the content of this advertising.