ICYMI: WSJ: GOP Group Ramps Up Campaign to Prevent Midterm Losses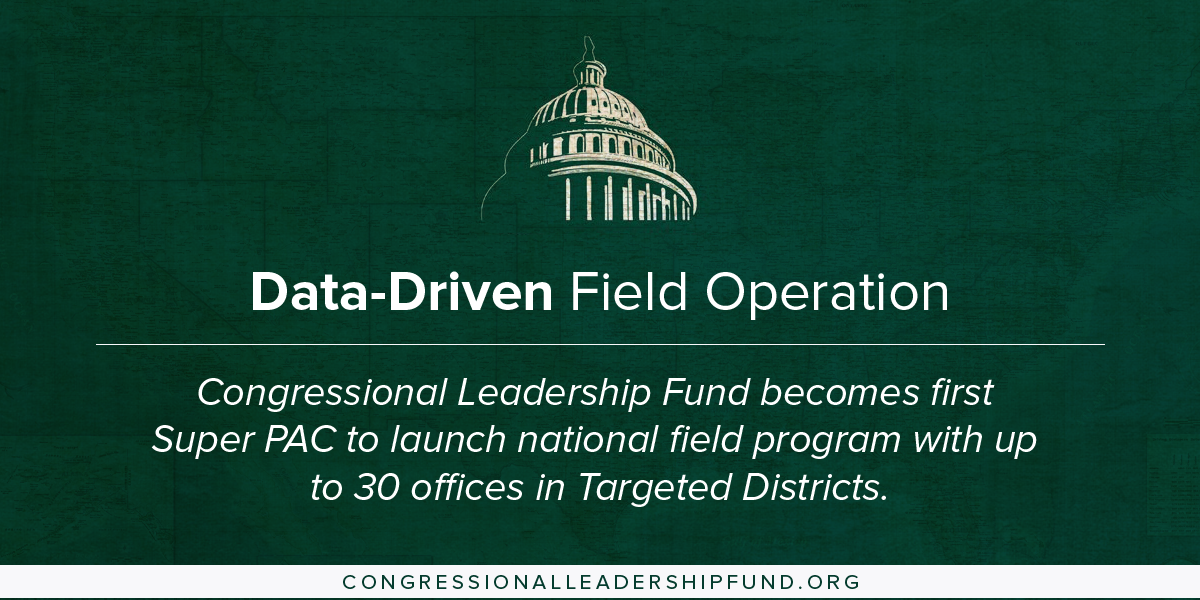 In Case You Missed It:
GOP Group Ramps Up Campaign to Prevent Midterm Losses
Super PAC is already canvassing and running ads for vulnerable House members
The Wall Street Journal
https://www.wsj.com/articles/gop-group-ramps-up-campaign-to-prevent-midterm-losses-1489762222
OMAHA, Neb.—Rep. Don Bacon was sitting in church on a recent Sunday when the freshman Republican stole a look at Facebook on his iPhone. He was surprised to see a super PAC advertisement for his own re-election—which is still 20 months away.
To try to preserve control of the House in the face of anticipated stiff headwinds, Republican operatives are starting 2018 congressional campaigns earlier than ever before.
The party of the sitting president has lost an average of 25 seats in midterm elections since 1994 and lost majorities three times. With Republicans fighting among themselves over repealing the Affordable Care Act and President Donald Trump at historical levels of unpopularity, Republicans are focusing intently on House races where their 23-seat majority may be most vulnerable amid a tide of Democratic grass-roots energy.
To prevent the House from flipping, the Congressional Leadership Fund, the House GOP's super PAC, plans to raise and spend $100 million during the 2018 election cycle—twice what it spent in 2016 and eight times what it spent in the 2014 midterm.
The political-action committee is placing paid staff in 20 competitive House districts with the goal of installing a clinical Republican turnout machine to protect incumbents yoked to a president who so far has a net unfavorability rating. It is spending $30,000 a month in each district on online ads like the one Mr. Bacon saw in church.
The architect of the new frontier in permanent campaigning is Corry Bliss, the super PAC's executive director. Mr. Bliss is aiming to replicate across the country the success he had as campaign manager for Ohio Sen. Rob Portman's 2016 re-election, which launched in February 2015 and was widely admired as last year's best-run Senate campaign.
CLF opened its first offices last month in Omaha and Des Moines, where the super PAC is protecting Iowa Rep. David Young. Two more are due to open later this month in Southern California districts. The rest will come later in the year.
Mr. Bliss's goal is to find people who voted for Mr. Trump but typically skip midterm elections and get them to vote for their Republican House member.
To that end, his team of three aides in Omaha has recruited 50 high-school social-studies students who spend hours knocking on doors and making phone calls from a rented storefront that shares a bathroom with an adjacent tanning salon.
The teens work from a list of 112,000 likely Republican voters in Mr. Bacon's district, including 18,000 who cast ballots in November's election who have never before voted in a midterm. Mr. Bliss said those voters will hear from a CLF volunteer on the phone or at their door at least once a month this year, once a week beginning next spring and every day as Election Day 2018 draws near.
Each of the past three House elections in Mr. Bacon's district has been decided by less than 6,000 votes.
"If we can get one-third of Trump voters who don't traditionally vote in a midterm, the election is over and Don Bacon will easily be re-elected," Mr. Bliss said. "Who runs against him, and what happens in Washington over the next two years, is irrelevant."
….
Canvassing in Omaha's Millard neighborhood on a Monday afternoon, 16-year-old CLF volunteer Peter Owens knocked on the door of Michelle Taylor, an insurance claims adjuster with a sign in her yard that read "Nothing inside is worth dying for" over the silhouette of bullets and a gun target.
The app on Mr. Owens's smartphone showed Ms. Taylor's home in a dark shade of red, meaning she profiled as a reliable Republican.
As Ms. Taylor's chihuahua, Scrappy, shivered on the porch in the cold, Mr. Owens ticked through three questions: Did she plan to vote for Mr. Bacon? (yes) Which issue is most important to her? (national security) Was she aware of Mr. Bacon's "efforts to reform the VA?" (yes).
Mr. Bliss will use Ms. Taylor's answers to target her online, by mail and over the phone with specific information over the next 20 months touting Mr. Bacon's national-security bona fides and plans for the Department of Veterans Affairs.
…
To read the entire story, click here: https://www.wsj.com/articles/gop-group-ramps-up-campaign-to-prevent-midterm-losses-1489762222
###