CLF Launches Web Ad on Brad Schneider Hiding Tax Returns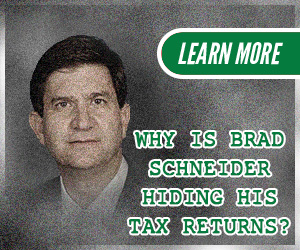 Brad Schneider must have something on his tax returns he doesn't want us to see. It's a shrouded history that sounds a little too much like Illinois officials whose attempts at secrecy have imploded into scandal.
Today, CLF is raising a question with Illinois 10 voters, launching an online GIF ad campaign in the district.  After all the corruption and scandal Illinois voters have already seen from their elected politicians, why is Brad Schneider hiding his tax returns?
Click here to read more on Brad Schneider's record of hiding his tax returns.
Brad Schneider may claim he will release just his 2013 return, but hitting the delay button while still hiding his 2011-2012 tax returns tells voters he's not serious about accountability. When scandal-plagued Gov. Pat Quinn is dragging down the ticket, Brad Schneider can't afford to be anything less than transparent and honest with voters.
The Bottom Line:
Illinois voters have seen too many corrupt politicians with a lot to hide, and Illinois 10 residents deserve the truth from Brad Schneider. He's proving to be just another secretive politician who pays lip service to transparency while hiding basic information about his tax obligations. Why is Brad Schneider hiding his tax returns?