CLF Launches Second TV Ad "Himself" Against Rick Nolan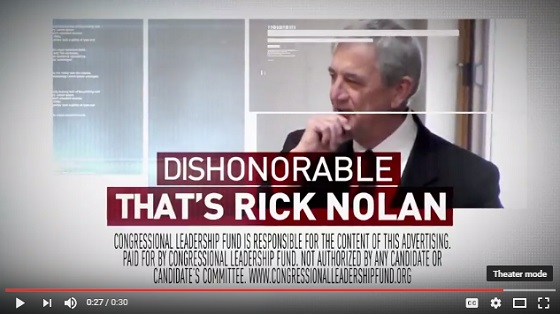 TV and Digital Ads Part of CLF and AAN's $2.2 Million Campaign 
WASHINGTON – The Congressional Leadership Fund (@CLFSuperPAC), the super PAC founded by former Senator Norm Coleman (R-MN) and endorsed by House Republican leadership, today released its second ad, "Himself," against Congressman Rick Nolan (MN-08). The ad exposes Rick Nolan as a self-serving politician who failed, time and again, to fight for the men and women in uniform.
"Time and again career politician Rick Nolan has fought to protect his bottom line and failed to respect those who serve in uniform," said Ruth Guerra, CLF spokeswoman. "Our troops stand up for us at home and abroad, yet Rick Nolan dishonors them by voting against their health care and pay. Minnesota veterans and their families deserve better than a self-serving politician like Rick Nolan."
The ad will air on broadcast, cable and online in the Minneapolis-St. Paul and Duluth media market beginning Tuesday, October 18, as part of CLF's $1.9 million independent expenditure campaign in the race. Additionally, American Action Network, CLF's 501c4 sister organization, is spending $300,000 in independent expenditures on door-to-door GOTV activities in the district. CLF and its sister organization American Action Network's total announced general election spending to date is over $33 million in 29 districts nationwide.
Script:
ANNCR: They fought for our freedom…
But Rick Nolan…he fights for himself.
Nolan voted to keep taxpayer-funded health care for himself.
But voted against funding veterans' health care benefits.
Nolan voted to raise his pay.
But voted against pay raises for our troops.
Nolan's got a pension for the rest of his life…
But voted against pension benefits for veterans.
That's dishonorable. That's Rick Nolan.
Congressional Leadership Fund is responsible for the content of this advertising.