CLF Launches First TV Ad "Waited" Against Pete Gallego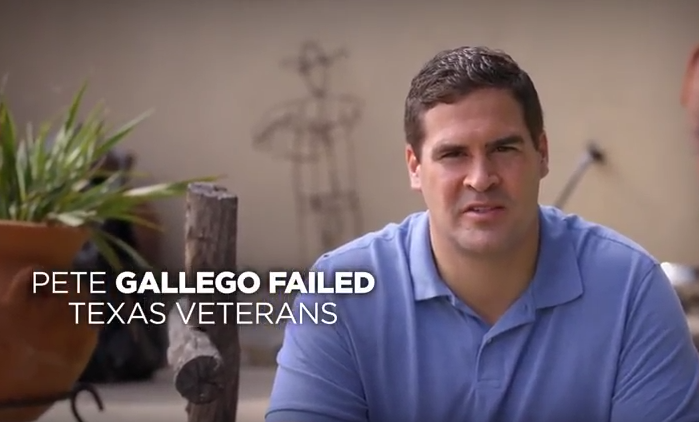 TV and Digital Ads Kick Off CLF's $2 Million Independent Expenditure in TX-23
WASHINGTON – The Congressional Leadership Fund (@CLFSuperPAC), the super PAC endorsed by House Republican leadership, today released its first TV ad, "Waited", against career politician Pete Gallego in Texas' 23rd Congressional District race. The ad features Texans discussing failures at the Veteran Affairs Administration and Pete Gallego's failure to lead on veterans' issues.
"When men and women in uniform needed Pete Gallego to stand up for their health care, he let them down," said Ruth Guerra, spokeswoman for CLF. "Pete Gallego knew that veterans were suffering with access to care and he wouldn't lead. Texans deserve better than a career politician like Pete Gallego who only looks after himself."
The TV ad will air on broadcast, cable and digital in the San Antonio and Midland-Odessa media markets beginning Tuesday, October 11, as part of CLF's $2 million independent expenditure campaign in TX-23. In 2014, CLF and its sister organization, the American Action Network (501c4), spent $1.6 million in the TX-23 congressional race, supporting Will Hurd's victory over Pete Gallego.
Script:
GRANT:  I served two combat tours in the Middle East.
ANNCR: But at the VA, long lines, neglect, indifference.
DEVORA:  Pete Gallego knew about it, but he failed to lead.
GRANT:  I had to make an appointment just to make an appointment.
RITA: Pete Gallego…he didn't lead when he could have.
GRANT:  I got so frustrated I ended up paying out of pocket.
RITA: It's unconscionable.
JOEL: My fellow veterans deserve better.
GRANT: Pete Gallego failed Texas veterans.
ANNCR: Congressional Leadership Fund is responsible for the content of this advertising.