CLF Launches "Divulge" Ad Against Randy Perkins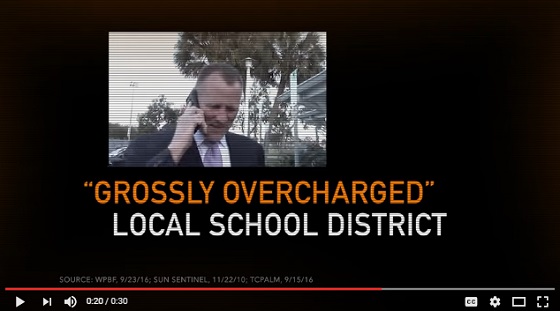 Final Salvo in CLF's Now $3.5 Million Campaign in FL-18
WASHINGTON – Today, the Congressional Leadership Fund (@CLFSuperPAC), the super PAC endorsed by House Republican leadership, released its fifth and final ad "Divulge" against Randy Perkins in Florida's 18th Congressional District race. The ad highlights Randy Perkins profiting off natural disasters, his company accused of grossly overcharging a local school district, and his refusal to "divulge [his] profit margin" at an official congressional hearing on his $500 million government contract.
"Whether it's grossly overcharging a school district or refusing to reveal his profit from a half-a-billion-dollar-government contract, Randy Perkins proves his priority is protecting his bottom line," said Ruth Guerra, spokeswoman for CLF. "Floridians deserve a leader like Brian Mast who has placed service above self, time and again – not a thin-skinned, shady businessman like Randy Perkins."
The ad will air on West Palm Beach cable and broadcast beginning Tuesday, November 1, through Election Day, as part of CLF's $3.5 million independent expenditure campaign in FL-18. Additionally, a 15-second version will run on digital platforms. CLF and its sister organization, American Action Network (501c4), have announced total general election spending to date of over $45 million in 32 districts nationwide.
Script:
ANNCR: How much is enough?
MR. PICKERING: Mr. Perkins, on your $500 million contract, what is your profit on that?
ANNCR: For Randy Perkins, it's never enough.
RANDY PERKINS: I am not going to divulge my profit margin.
ANNCR: Perkins' company made millions as people suffered after Hurricane Katrina.
And a local school district even accused his company of grossly overcharging them hundreds
of thousands of dollars.
Randy Perkins. Looking out for his bottom line, not ours.
Congressional Leadership Fund is responsible for the content of this advertising.