CLF Launches "Dangerous Deal" Ad Against Ami Bera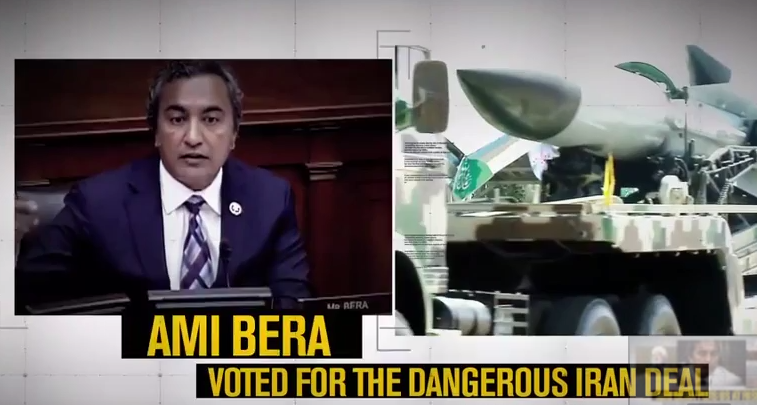 TV and Digital Ads Part of CLF and AAN's $1.5 Million Campaign in CA-07
WASHINGTON – The Congressional Leadership Fund (@CLFSuperPAC), the super PAC endorsed by House Republican leadership, today released the ad "Dangerous Deal" against Democrat Congressman Ami Bera (CA-07). The ad spotlights Ami Bera's record of supporting shady deals for Iran with willful disregard to the dangers of the nuclear agreement and Iran's use of cash payments to fund terrorism.
"Ami Bera knows a thing or two about shady deals, but his support for deals that empower Iran to build weapons and potentially fund terrorism is unconscionable," said Ruth Guerra, spokeswoman for CLF.  "Even after the Iran deal has been exposed as a farce, Bera has doubled-down by opposing a ban on future cash payments to a state sponsor of terrorism. Ami Bera's dangerous deals are putting America at risk."
The TV ad will air for one week on Sacramento broadcast, cable and digital beginning Tuesday, October 11, as part of CLF's $1.2 million independent expenditure campaign in CA-07. In addition, American Action Network, CLF's 501c4 sister organization, is spending $300,000 in independent expenditures on door-to-door GOTV activities in the district.
Script:
ANNCR: Iran. They chant "Death to America,"
Sponsor terrorism. . . help kill our troops.
Yet, Ami Bera voted for the dangerous deal putting Iran on a path to get nuclear weapons.
And giving them billions. . .money they can use to fund terrorism.
Ami Bera supports the dangerous Iran deal.
While Iran keeps building weapons,
Ami Bera puts us at risk.
Congressional Leadership Fund is responsible for the content of this advertising.