CLF Ad: "Pay the Price" Against Taxin' Steve Santarsiero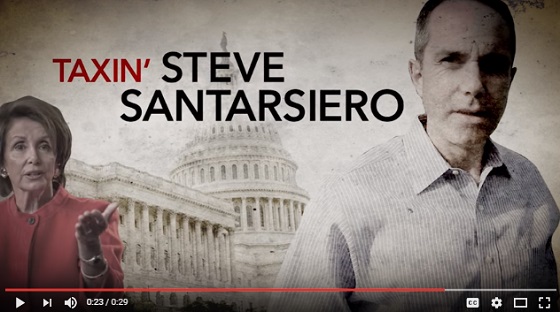 Ad Part of $2.3 Million Campaign in PA-08
WASHINGTON – Today, the Congressional Leadership Fund (@CLFSuperPac), the super PAC endorsed by House Republican leadership, released its second ad against tax-and-spend Steve Santarsiero in Pennsylvania's 8th Congressional District race. The ad, called "Pay The Price," reminds voters of some of the many tax hikes Santarsiero enacted as town supervisor and state representative, which force Pennsylvanians to fork over more for less.
"Whether its buying a home or filling up a gas tank, hard-working Pennsylvanians face Steve Santarsiero's taxes at every turn. Santarsiero's partisan record proves he'll be no different in Congress, ready to rubberstamp Nancy Pelosi's bad ideas," said Ruth Guerra, spokeswoman for CLF. "Pennsylvanians have had enough of tax-and-spend politicians like Steve Santarsiero who take too much from hardworking families and give nothing in return."
The ad will air on Philadelphia cable, broadcast and online beginning Friday, October 28 through Election Day, as part of CLF's $2.3 million independent expenditure campaign in PA-08. CLF and its sister organization, American Action Network (501c4), have announced total general election spending to date of over $40 million in 32 districts nationwide.
Script:
ANNCR: Steve Santarsiero. Taxes us in our homes, and when we leave them.
As town supervisor he voted for record property tax increases.
Then in Harrisburg, Santarsiero kept towing the party line.
Wonder why our gas tax is one the highest in the country?
Yep, you guessed it, Santasiero voted to raise it 27 cents.
Taxin' Steve Santarsiero.
In Washington, he'd work for them and we'd keep paying the price.
Congressional Leadership Fund is responsible for the content of this advertising.