POLL: Fitzpatrick expands lead over Finello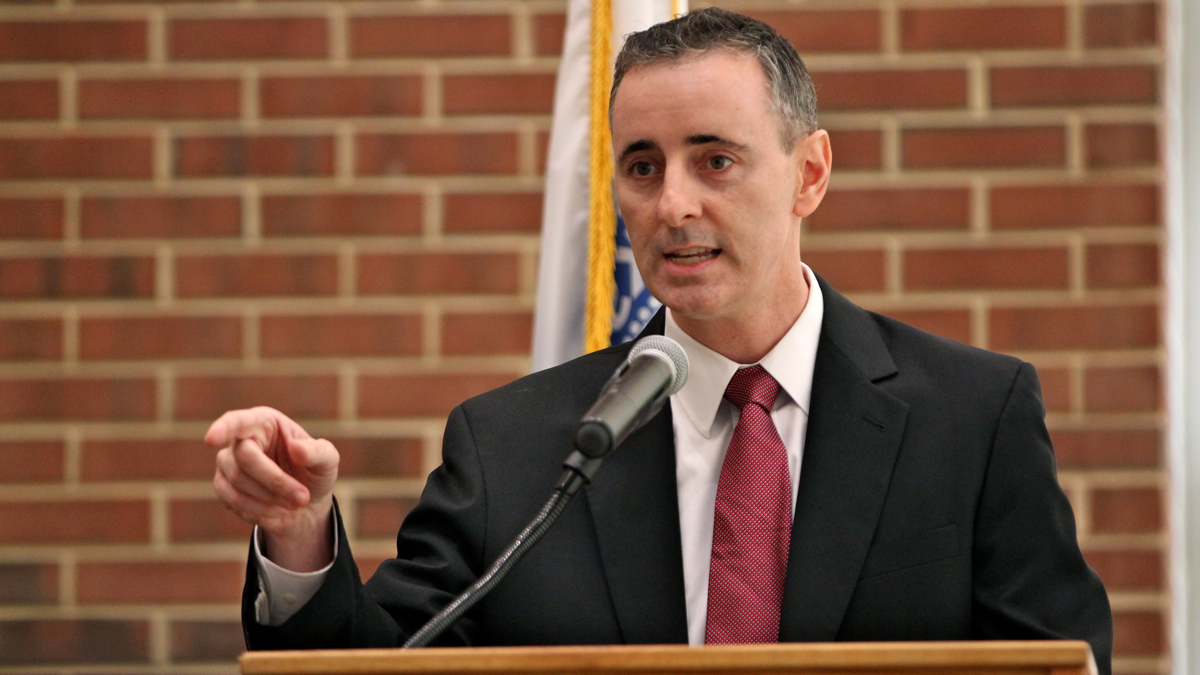 A new poll published by PoliticsPA today shows Congressman Brian Fitzpatrick has expanded his lead over Democrat candidate Christina Finello and now leads Finello by 16 points, 52%-36%.
Fitzpatrick's lead comes among strong showings with independent voters (where he leads by 13) and registered Democrats, where he earns 23 percent of their vote.
Click here to read the full polling memo.
Exclusive GOP Poll: Fitzpatrick 52, Finello 36
PoliticsPA
John Cole
9/21/2020
https://www.politicspa.com/exclusive-gop-poll-fitzpatrick-52-finello-36/95862/
A national Republican PAC says that Rep. Brian Fitzpatrick (R-Bucks) is in a "strong position" to be reelected heading into the final six weeks of the campaign.
A poll shared exclusively with PoliticsPA by Congressional Leadership Fund shows Fitzpatrick leads Democratic candidate Christina Finello, an Ivyland Borough Councilwoman, 52-to-36, in the race for Pennsylvania's 1st Congressional District.
Congressional Leadership Fund is a Republican super PAC endorsed by House Republican leadership.
It's the second poll this cycle that they've released on the race in PA1. In July, CLF's poll showed Fitzpatrick with a 15 point lead over Finello, 50-to-35, in the race.
It's Democratic counterpart, House Majority PAC, released an internal poll of this race in late June showing Fitzpatrick only leading by 1 point, 45-to-44.
CLF doesn't coordinate directly with candidates or committees like the National Republican Congressional Committee, but it does play a role in helping shape what races to watch in November. Publicizing an internal poll is a key way to help craft a message for a congressional race.
The poll was conducted by American Viewpoint and included 400 interviews of likely PA-1 voters. The polling memo says 50% of interviews conducted with a cell phone sample of those that couldn't be reached on a landline. The 400 interviews were conducted between Sept 14-16 and the poll has  a ± 4.9% margin of error at the 95% confidence level, although the margin of error among sub-groups is greater.
American Viewpoint polling leans in Republicans favor by an average of 0.8%, according to analysts at FiveThirtyEight, which gives the outlet a B/C rating. Having said that, all internal poll results should be taken with a grain of salt.
The Finello campaign responded to the poll by linking Fitzpatrick with President Donald Trump.
"Brian Fitzpatrick and his special interest friends are doubling down on Trump's playbook of fear-mongering and lies because they know Fitzpatrick's record of failing to stand up for Bucks and Montgomery counties, voting with Donald Trump to gut protections for people with preexisting conditions, and refusing to extend urgently needed relief during the pandemic is indefensible," said Finello campaign spokesperson, Ali Anderson. "Voters know better. In November, Fitzpatrick will be held accountable for turning his back on the people he is meant to serve and misleading them for the sake of partisan politics."
Finello shared a similar message in her opening TV ad of the campaign released nearly 2 weeks ago.
Fitzpatrick voted for the GOP tax reform bill in 2018, but voted against the GOP bill to repeal the Affordable Care Act in 2017.
Additional polling included in the memo attempts to make the case that Fitzpatrick's current lead in the Philadelphia market with limited time before the election makes it difficult for Finello to "become competitive."
Fitzpatrick leads Finello by 13 points among Independent voters, while also garnering 23% from registered Democrats.
The incumbent GOP congressman also holds an advantage in favorability, while Finello remains largely unknown by voters, according to this GOP polling. 58% of likely voters have a favorable impression of Fitzpatrick, while 29% have an unfavorable impression of the GOP congressman. 23% have a favorable opinion of Finello, while 12% have an unfavorable opinion. This is an increase in comparison to July polling that showed that only 13% had a favorable opinion of Finello, while 8% had an unfavorable impression of the Democratic challenger.
Other internal polling from the campaigns paints two completely different pictures of the race. Fitzpatrick's campaign released an internal poll, conducted by Public Opinion Strategies, in mid-July that showed him leading Finello by 14 points, 53-to-39. Internal polling from Finello's campaign released in mid-June painted a much different picture with Fitzpatrick holding just a 2 point lead, 40-to-38 in the race.
Unlike other internal polling in PA1, there were no numbers included between the head-to-head matchup between former Vice President Joe Biden and President Donald Trump in the blue-trending district.
Several polls released in the summer showed former Vice President Joe Biden holding a lead over President Donald Trump, beyond the margin of error in Pennsylvania.
Fitzpatrick is currently in his second term in Congress representing the Philadelphia suburban district. He bested pro-Trump Republican Andrew Meehan in the 2020 GOP primary by 27 points, which is a closer victory than his 2018 GOP primary win over pro-Trump Republican Dean Malik by 34 points. In the general election, Fitzpatrick defeated Democrat Scott Wallace by just over 2.5 points in the November midterm. At $31M in total spending, it was the fifth-most expensive non-special congressional contest in American history. Fitzpatrick was just one of two Republicans nationwide to weather the blue wave in 2018 by winning boundaries that narrowly went to Sec. Hillary Clinton in 2016.