GROWING PAINS: The New Democratic House Majority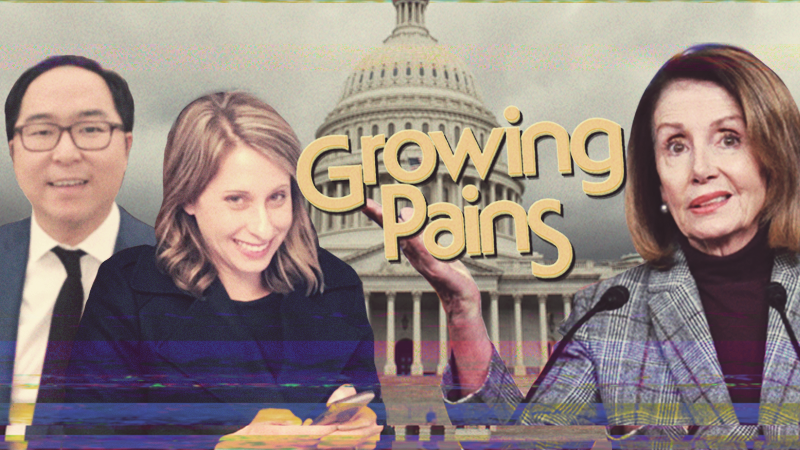 The first three months of the new Democratic House Majority have been…messy, and Democrats are obviously struggling to get on the same page.
That's why CLF has decided to help chronicle the "growing pains" of the new Democratic Majority with an ongoing series called, you guessed it, Growing Pains(sorry, no Kirk Cameron cameo).
Below you'll find an initial list of missteps, chaos, and infighting that has defined the early days of the Democratic Majority. More to come. Soon.
Growing Pains – Elissa Slotkin (MI-08)
Thank you to Elissa Slotkin (and her fellow Democrats) for serving as the inspiration for this series!
Slotkin: "We're also experiencing growing pains, and that's normal."
Does this Elevator Work? – Sharice Davids (KS-03)
When asked why she broke her promise to Kansas voters by voting for Nancy Pelosi for Speaker, Sharice Davids tried to head for the exits…only to be stymied by a slow elevator!
Watch the exclusive CLF footage here.
Candidate vs Congressman: Antonio Delgado (NY-19)
Antonio Delgado was hailed by left wing environmental groups when he was a "Green New Deal candidate," but he flip flopped shortly after a CLF campaign exposed his radical views.
In February, CLF exposed Delgado's radical environmental agenda to his constituents in a digital ad.
A mere five days after CLF's ad was announced, Delgado started running from his previous position.
Green New Deal: What is It? – Lauren Underwood (IL-14)
Lauren Underwood admitted the obvious: she has no idea what the $93 trillion Green New Deal is.
Watch the CLF footage here.
Opposing Illegal Immigrants Voting is "Sowing Hatred" – Max Rose (NY-11)
Max Rose called Dan Crenshaw's efforts to claim that "allowing illegal immigrants the right to vote devalues…the voting power of United States citizens" is "sowing hatred."
Rose's full statement isn't much better: "This is a political effort to divide us, to sow hatred, and it's a game."
Rose also separately said "we share great values" when asked about Ilhan Omar's anti-Semitic comments.
No Show Democrats – TJ Cox (CA-21)
TJ Cox learned firsthand just how difficult it is to "herd cats" when his fellow Democrats failed to show up for his hearing on climate change.
House Democrats have no idea how to run things, and this was made embarrassingly clear to Cox: "House Republicans managed to quash Democrats' hearing on climate change on Tuesday by outvoting the majority party at the poorly attended event, forcing it to adjourn only minutes after it began."
Launching Reelection from DC? – Katie Hill (CA-25)
Katie Hill kicked off her bid for reelection…from Washington DC! That's roughly 3,000 miles from her congressional district, in case you were counting.
Hill said her announcement is "unprecedented." We agree–how many members are so out of touch that they start their campaigns in DC?
Impeachment – Rashida Tlaib (MI-13)
Members like Rashida Tlaib have been causing headaches for Pelosi quite literally from day one. Tlaib told a group of liberal activists on the first full day of the 116th Congress that "we're going to impeach the motherf****r."
Tlaib's quest for impeachment has continued unabated; she announced last week that she plans to file an impeachment resolution. She then promptly started fundraising off of this announcement.
Democratic megadonor Tom Steyer is continuing his "impeach first ask questions later" strategy against President Trump by hosting "town halls" to convince Democrats like Debbie Mucarsel-Powell to impeach President Trump at all costs.
Freshmen Flip Flop on Pelosi
Normally it takes politicians several years to sell out. Not so for House Democrats who campaigned specifically on opposing Pelosi for Speaker, only to fold like cheap suits after she applied just a little pressure.
Democrats Lose First Motion to Recommit in NINE YEARS
Democrats made history in a big way just one month into their majority–they lost the first Motion to Recommit in nine years!
Their first loss occurred when House Republicans added language condemning anti-Semitism to a foreign policy bill.
The second Democratic loss was when Republicans added an amendment to a gun bill requiring ICE to be notified when an illegal immigrant attempts to buy a gun.
How did Democrats take these losses? Not too well. In response to these defeats, "Pelosi indicated Thursday that Democrats could change House rules in a way that would make it harder for Republicans to make last-minute tweaks to legislation."
AOC's Primary List
Pelosi isn't the only Democrat annoyed with the Motion to Recommit.
After some Democratic defections on the Motions to Recommit, AOC told Democrats in a closed door meeting that those who vote with Republicans are "putting themselves on a list," and at risk from an AOC-backed primary challenge.
This move (cut "move," we say it later in the sentence) angered her fellow Democrats, one of whom even compared her moves to AOC's own version of aNixonian enemies list.
Speaker Ocasio-Cortez?
AOC has proven so adept at controlling the House Democrats' agenda that the Wall Street Journal asked a question that everyone wants to know the answer to: is Pelosi even in control any more?
"The most important question after this moral fiasco may be who's really the Speaker of the House—Ms. Pelosi, or the young radicals led by Ms. Ocasio-Cortez?"
"Democrats have only had the majority since January, and there are already too many failures to highlight. Simply put, House Democrats are just not ready for prime time," said Congressional Leadership Fund VP Zach Hunter.