CLF Launches "Pork" TV Ad Against Steve Santarsiero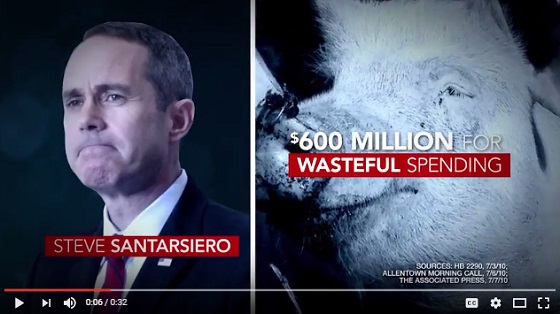 WASHINGTON – The Congressional Leadership Fund (@CLFSuperPAC), the super PAC endorsed by House Republican leadership, today launched its first ad, "Pork," against Steve Santarsiero in Pennsylvania's 8th Congressional District race. The ad spotlights Steve Santarsiero's record for taxing Pennsylvanians and then wasting their money on pork barrel spending and secret pet projects.
Whether as town supervisor or state representative, Steve Santarsiero has laid waste to fiscal sanity, voting to borrow over $600 million and raise taxes on working families to fuel pet projects and profligate spending.
"Pennsylvanians can smell the stench of Steve Santarsiero's tax-raising record on everything from gasoline prices to property taxes," said Ruth Guerra, spokeswoman for CLF. "When squeezing more money out of taxpayers isn't enough, Steve Santarsiero plunges them millions more into debt to ensure pork projects aren't butchered. The last thing Pennsylvanians need is Steve Santarsiero's rotten tax-and-spend record in Congress."
The ad will begin airing Tuesday, October 18, on Philadelphia broadcast and cable TV. A 15-second version of the ad will run on digital platforms. CLF will spend over $2.2 million on TV and digital advertising in the PA-08 race in the final three weeks of the election. CLF and its sister 501c4 American Action Network have announced general election spending of over $33 million in 29 districts nationwide.
Script:
ANNCR: Got pork? Steve Santarsiero does.
He voted to borrow 600-million for wasteful spending, including pork barrel projects like
buildings for politicians.
And supported walking around money for legislators to fund secret pet projects.
How did he pay for it?
Well, he didn't. You did.
Santarsiero voted to raise gas taxes and driving fees.
And as town supervisor, voted for record property tax increases.
Taxin' Steve Santarsiero. His record stinks.
Congressional Leadership Fund is responsible for the content of this advertising.